Lingfield Park Golf Club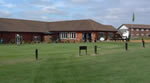 Lingfield Park Golf Club covers over 200 acres in the rolling Surrey countryside between the two villages of Lingfield and Dormansland and with its footpaths provides relaxing open space for ramblers, runners and dog walkers as well as golfers. It forms part of the Lingfield Park racecourse and leisure complex, owned by Arena Leisure plc.
It is an 18 hole, over 6,000 yard, course and unlike many golf courses attached to racecourses, the course is only briefly adjacent to the race course; principally at the first tee and again as the golfers cross the course to play the loop of holes from the 12 through 16 before returning to the 17th which runs alongside the flat course for a short way before turning away into the woods.. The Club welcomes new members, with the present membership being around 600 members of all classes. A warm and friendly welcome awaits both new members and guests.
The course was developed in the early/mid 1980ís, being opened for play in 1987 and has matured well over the years. With its ponds and streams and mature trees it now provides a challenging but fair test of golf. Over 6,500 trees have been planted over the years and these trees are now reaching maturity and add beauty to the course. The autumnal colours can be signally spectacular. On the higher parts of the course, near the railway at Dorman's station, there are wonderful views over the Old Town at Lingfield and further a field to the North Downs.
Arena Leisure has a continuing improvement programme for the both the clubhouse and course which has recently seen the complete re-decoration of the club house and the re-building of the 15th green and the building of a pond on the 18th hole and a major investment in state of the art green keeping equipment. The course is one of the undiscovered golfing delights in Surrey and provides one of the finest tests of golfing skill in the County and surrounding area. As a testament to the quality of the course the Club has hosted the Surrey Professional Golfers Association Open for the last three years.
Would you like to sponsor this website ? Would you like your company name highlighted and a page or two on this site, or a link to your own site ? We have a very impressive Google presence, Click here for further information, you won't believe how cheap and beneficial it could be.