Zero Gravity UK Trampoline Offer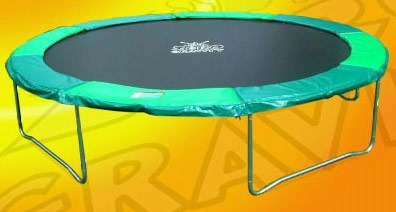 We have managed to negotiate a fantastic deal on this quality range of Zero Gravity Trampolines. Located in Hampshire, Zero Gravity Trampolines offer a great specification for a great price.
The 3rd generation Ultima3 range from Zero Gravity Trampolines offers the highest specification trampolines available to the UK market. Just take a look at the detailed information below and decide for yourself. A trampoline is a long term investment so don't waste your money on an inferior "chain store" trampoline - If you want the ultimate jump it's got to be Zero Gravity Ultima.
These Zero Gravity Trampolines are Big on Springs (for a bigger bounce), Big on padding (for a safer bounce) and Big on Guarantees (10 years on the frame), so you are getting a lot of trampoline for your money. Trampolines are tremendous fun for all the family and encourage children of all ages to play together. They are super conditioners that build strength, stamina, confidence and co-ordination. The round design encourages the jumper to stay in the centre to enjoy a deep, lively bounce. They can be left outside all year round and will give years of trouble-free enjoyment.
Thickest Safety Pads Available
Zero Gravity Ultima3 safety pads contain thick 30mm closed cell foam that safely covers both springs and frame. This is the thickest padding available on the market. Covering is made from reinforced PVC that is twice as thick as normal trampoline padding material
BIG Springs & lots of them
For the biggest bounce these Zero Gravity Ultima3 trampolines come with either 80 springs for the 10ft, 6 springs for the 12ft and 112 for the 14ft super springy, high strength, extra large 8.5 inch galvanised springs.
Permatron Mat from USA
The safest and most effective jumping surface. The A grade Permatron matting is UV resistant, non abrasive and absorbs no moisture. Zero Gravity logo is printed in the centre of the mat as a visual reference point for jumpers.
Heavy Duty Galvanised Frame
Heavy duty galvanised top frame is made from 2.0mm steel. Compare this to most trampolines 1.5mm steel. Frame is fully galvanised inside and out for added weather protection.
Reinforced Joints
The weakest part of ANY trampoline is the welded leg joints. The Zero Gravity Ultima3 has extra steel plates welded to the leg joints to reinforce the strength of the joint.
Tight Fit Legs
Most trampolines legs will fall away when the outer ring is lifted. Zero Gravity Ultima3 Trampolines use "punch click" tight fit legs enabling easy movement of the trampoline around your garden.
Free Protective Cover
Free cover protects your trampoline from unwanted bird droppings and tree sap but more importantly can tell the kids when the trampoline is out of bounds. Our tie down cover has a number of drainage holes to ensure no water build up in the centre of the trampoline.

Strong Stitching & V rings
Row upon row of UV resistant stitching ensures the utmost security for V-rings.
Fully Certified
Zero Gravity Ultima Trampolines3 have been awarded GS TUV certification.
Guaranteed
Zero Gravity Ultima3 Trampolines come with a 10 year warranty on the frame against rust causing failure, 2 year warranty on mattress and springs and 1 year on padding. Warranty excludes damage to parts through misuse and adverse weather.
By ordering through us we can save you money on the best, high quality trampolines available in the UK today. The goods are shipped direct from the manufacturer and are covered by their comprehensive guarantee. Our customer service is second to none, satisfaction guaranteed. Why would you order from anyone else ?
Please use the grid below for more information on our range of Zero Gravity Trampolines
Zero Gravity Trampolines & Enclosure Deals

10ft Zero Gravity Ultima3 Trampoline & Enclosure

12ft Zero Gravity Ultima3 Trampoline & Enclosure

14ft Zero Gravity Ultima3 Trampoline & Enclosure

Zero Gravity Trampolines

10ft Zero Gravity Ultima3 Trampoline

12ft Zero Gravity Ultima3 Trampoline

14ft Zero Gravity Ultima3 Trampoline

Zero Gravity Enclosures

10ft Zero Gravity Safety Enclosure

12ft Zero Gravity Safety Enclosure

14ft Zero Gravity Safety Enclosure

Zero Gravity Tie Down Kits

Zero Gravity Tie Down Kit
Order online or phone us on
01342 833 464
to place your order now


Chat with one of our online assistants (Available at limited times only)