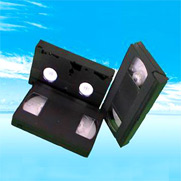 Trampolining Video
Super Tramp Trampolining Video VHS 31mins
Super Tramp Trampolining Video
Our trampolining video "One Jump Ahead" has been put together by a prominent trampoline coach, the the consent of the British Trampoline Federation, demonstrating all the basic moves by a team of experts.
Step by step demonstrations showing the British Gymnastics proficiency scheme from Awards 1 to 10.
Beginning with the very basics of trampolining, the video takes you right up to front and back somersaults, and finishes with an exciting display of advanced competition routines from the three demonstrators.